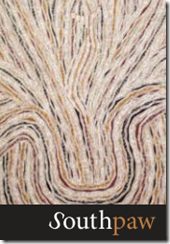 Southpaw is a new literary journal of writing from  the global south. It is dedicated to the idea of  'south-south' dialogue: to conversations between  writers, artists and readers about life away from  the metropolitan centres of power and culture. It is a literary left hook from the south features fiction, creative non-fiction, poetry, essays, reviews and  images.
Southpaw issue 1 is focused through the theme of  displacement. Writers from South Africa, Indigenous  Australia, Philippines, Colombia, Suriname, Angola,  Indigenous Japan, China, the Horn of Africa, Tunisia,  New Zealand and non-Indigenous Australians write fascinating stories and reflect on home and eviction, migration and asylum seeking, cultural diplomacy  and political oppression, cross cultural dealings and cultural reclamation.
Including:
Kevin Murray on the idea of south,
Danilova Molintas on the city of Baguio, Kendall
Trudgen on diplomacy in East Arnhem Land and
Martin Plowman on UFOs in South America.
Fiction by: Karen Jennings, Tony Birch, paulo da costa, Ruth San A Jong and Paul Maunder.
Non-fiction by Yeeshan Yang, Karen Lazar, Batool Albatat and Aliza Amlani.
Reviews by Alice Robinson (Tamil pulp ction), Justin Clemens (Mapanje), Bernard Caleo (Ubby's Underdogs), John Hughes (Planet B) and Vicki Crowley (Indigenous sexuality).